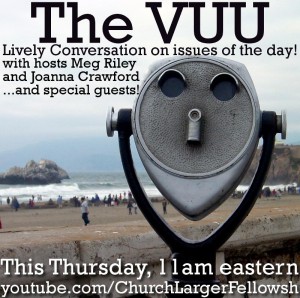 Rev. Marti Keller, co-editor with Rev. Leah Hart-Landsberg of the upcoming Jewish Voices in Unitarian Universalism ( Skinner House Press, January2014) and Lynn Ungar,, minister for lifespan religious education for the Church of the Larger Fellowship, were featured guests on the weekly YouTube show The VUU Thursday morning September 5. They talked about the meaning of the Jewish High Holy Days, the presence of and concerns of Jewish Unitarian Universalists, cultural appropriation and rituals, and our wisdom sources– as well as the notion of cultural Christian privilege within UU.
Unitarian Universalists for Jewish Awareness is delighted to announce the following winner of its sixth annual Jerry Davidoff Sermon Award, for the best sermon delivered in 2012 which best illustrates or exemplifies the contributions of Jewish theology, thought or culture to our liberal faith tradition:
 "What's a Nice Jewish Girl Like You Doing in a Place Like This" preached on September 16, 2012 at Northern Hills Unitarian Universalist Fellowship in Cincinnati, Ohio, by The Rev Joan Kahn-Schneider.
The award comes with a $500 honorarium, and will be presented at the General Assembly of the Unitarian Universalist Association, in Louisville, KY, June 18-23, 2013.
The UUJA award is named in honor of the late Jerry Davidoff, a longtime leader in our UU movement and one of the earliest members of the UUJA, which was founded over 20 years ago by UUs of Jewish descent or interest who wished to create a voice for the often overlooked Jewish presence in our faith community and to highlight one of our source traditions.
Judges for this year?s UUJA sermon award competition were The Rev. Marty Keller, past president of UUJA; The Rev. Aaron McEmrys, winner of the 2012 Davidoff award; and former UUJA board treasurer Myrtle McMahon.
Passover begins Monday, March 25 2013.  Be sure to check the Passover Resources UUJA has available.