PROGRAM OF SCHEDULED EVENTS
Friday, March 14 
4 pm Welcome & Registration Table Open
Light snacks available.       Sign up for Small Group (Havorah) at Welcome/Check In.
Groups will be announced at Ingathering Shabbat Service.  Small groups are designed to foster community and connection over the course of the weekend.
5pm -5:45pm Ingathering Shabbat Service - Rev. Dara Olandt, Worship Leader
Rev. Dara Olandt currently serves the Unitarian Universalist Congregation in Blacksburg, Virginia and is Chair of the Jewish Voices Gathering Planning Committee.
6pm – 6:30pm  Havorah Gathering – 1st meeting of Small Groups
6:30pm   DINNER option available on-site or you may choose to have dinner on your own.
Saturday, March 15  
8am   Registration Table Open
8:30am  - 9 am Havorah Gathering over Breakfast
(2nd meeting of Small Groups. For those who arrived Saturday, this is your 1st meeting.)
9:15am – 10:15am 
Keynote/Opening Worship  with Rev. Marti Keller and Rev. Leah Hart-Landsburg
The keynote will place the recently published book, Jewish Voices in Unitarian Universalism (January 2014, Skinner House Books) in a broader context, especially in light of "identity" as explored in the  Pew Study on Jewish Identity in America Today, which came out last year and has been the subject of much discussion and even some controversy.
Rev. Marti Keller and Rev. Leah Hart-Landsburg co-edited the recent book. Rev. Leah Hart-Landsburg is current president of UUJA. Rev. Marti Keller is past-president of UUJA.
Reviews of Jewish Voices in Unitarian Universalism:
Leah Hart-Landsberg and Marti Keller have assembled a rich and exciting collection of reflections by people in the Unitarian Universalist world who are also Jewish. The inner conflicts, the joyous integration of both traditions, and the wisdom that emerges from the life experiences of the contributors to this book open all of us readers to new insights in both traditions!
—Rabbi Michael Lerner, Editor, Tikkun Magazine
Jewish Voices in Unitarian Universalism is a powerful expression of the depth, breadth, and diversity of Jewish belief and practices within contemporary Unitarian Universalism. These essays detail some of the joys and struggles of living as a hyphenated UU, and yet, because of that struggle, many of the authors have found both their Jewish and Unitarian Universalist faith deepened.
—Kathleen Rolenz, Editor, Christian Voices in Unitarian Universalism
Workshop Slot 1  (1 option)
10:30am – 12:15pm  
Jewish Ethnicity, Race, and Anti-Oppression Workshop -  Rev. Rob Eller-Issacs
Rev. Rob Eller-Isaacs will offer a workshop asking us to honor our ancestry and think deeply about what our living faith demands today. He will probe the inherent tension between treasuring a particular identity and living into the longing to build and to be the Beloved Community.
Rev. Rob Eller-Isaacs currently serves the Unity Church – Unitarian congregation in St. Paul, Minnesota with co-minister, Rev. Janne Eller-Isaacs.
12:30pm – 1:30pm – LUNCH provided on-site
Workshop Slot 2  (2 options)
1:45pm – 3:30pm  
1)  Bringing the Jewish Traditions & Teaching to Life -  Rev. Alison Miller and Denny Davidoff
Our congregations bring Jewish traditions to life in various ways – through local UUJA groups, non-Sunday services, lifespan RE Classes, Shabbat gatherings, and more.  We will share what is going well in a number of congregations and spark ideas for how to further develop programming that seeks to honor Jewish wisdom and practices.
Rev. Alison Miller currently serves the Morristown Unitarian Fellowship in Morristown, New Jersey.  Denny Davidoff is the Senior Consultant for Development and Alumni/ae Affairs at Meadville Lombard Theological School, and a former moderator of the Unitarian Universalist Association.
2) Beyond the Holidays: Weaving Jewish Sources and Practices Into UU Worship - Rev. Dara Olandt
How can Jewish readings, practices, music and wisdom infuse our UU worship life… even beyond the oft celebrated holidays, such as Passover and the High Holidays? Join for this celebration of what is possible. We'll explore creative and innovative ways to weave Jewish sources into worship with authenticity, integrity and fun! Please consider bringing a favorite quote, reading, or piece of music from a Jewish source, which moves you. And if none come to mind… not to worry! 
We'll be looking at several examples provided. Also, please consider bringing a journal to records personal reflections during the time we share together in this participatory workshop!
BRIEF BREAK
4pm – 4:30pm   Havorah Meeting (3rd session of Small Groups)
BREAK & FREE TIME    
5:15pm – 6 pm Havdalah Service – Rev. Kelly Asprooth-Jackson, Worship Leader
Rev. Kelly Asprooth-Jackson currently serves First Parish Unitarian Universalist Church in Beverly, Massachusetts.
6:15pm DINNER- Provided on-site.
7pm Purim Celebration!  Featuring the David Glukh Klezmer Ensemble
With its distinctive instrumentation of piccolo trumpet, accordion, violin, bass and percussion, this highly polished ensemble of Juilliard graduates has performed worldwide to critical acclaim. Its repertoire includes traditional klezmer along with special "fusions" between klezmer and other traditions – Irish, Gypsy, Classical, Latin, Jazz, Georgian, Middle Eastern, Chinese, Macedonian, Israeli, Hassidic, Russian, Funk, Tango, Flamenco, Indian, and improvisational world-beat. Performing at NYC's Lincoln Center and Merkin Concert Hall, LA's Skirball Center, and at celebrity events at the Plaza and Waldorf, the ensemble has also collaborated with SONY Classical Recording Artist, Violinist Lara St. John, and with jazz great Dave Douglas.
Website: www.glukh.com
Sunday, March 16
9:15am -10:00am BREAKFAST and Closing Havorah
(Last Small Group meeting)
10:15am -10:45am – Closing remarks – Rev. Leah Hart-Landsburg, President, UUJA
Housekeeping & Evaluations
11 am –Worship - Rev. Alison Miller
Sermon Title: "Luck of the Draw"
Today is the festive Jewish holiday of Purim.  A good portion of the holiday centers around the retelling of the Book of Esther, a memorable story where fate and freedom hang in the balance.  Let us explore the meaning this holiday can hold for us.
Jewish Voices Gathering attendees join for worship that is also open to the general public and the community of Morristown Unitarian Fellowship.

Download schedule here
UU's from all over will gather in Morristown, NJ  March 14-16, 2014 for a conference featuring editors and contributors from the book "Jewish Voices in Unitarian Universalism". (Skinner House Jan.2014)
Get more info at  uujewishvoicesgathering@gmail.com and in our recent newsletter.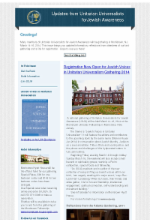 Jewish Voices in Unitarian Universalism Conference will be held - March 14-16 in Morristown, New Jersey
More information including hotel and updated press release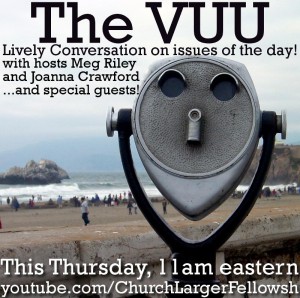 Rev. Marti Keller, co-editor with Rev. Leah Hart-Landsberg of the upcoming Jewish Voices in Unitarian Universalism ( Skinner House Press, January2014) and Lynn Ungar,, minister for lifespan religious education for the Church of the Larger Fellowship, were featured guests on the weekly YouTube show The VUU Thursday morning September 5. They talked about the meaning of the Jewish High Holy Days, the presence of and concerns of Jewish Unitarian Universalists, cultural appropriation and rituals, and our wisdom sources– as well as the notion of cultural Christian privilege within UU.
The UUJA has just launched a new
email newsletter
.  The first issue has information about UUJA events at General Assembly.
If you would like to subscribe to receive the newsletter in the future you may do so by click on the "Join our mailing list" button in the newsletter.
Unitarian Universalists for Jewish Awareness is delighted to announce the following winner of its sixth annual Jerry Davidoff Sermon Award, for the best sermon delivered in 2012 which best illustrates or exemplifies the contributions of Jewish theology, thought or culture to our liberal faith tradition:
 "What's a Nice Jewish Girl Like You Doing in a Place Like This" preached on September 16, 2012 at Northern Hills Unitarian Universalist Fellowship in Cincinnati, Ohio, by The Rev Joan Kahn-Schneider.
The award comes with a $500 honorarium, and will be presented at the General Assembly of the Unitarian Universalist Association, in Louisville, KY, June 18-23, 2013.
The UUJA award is named in honor of the late Jerry Davidoff, a longtime leader in our UU movement and one of the earliest members of the UUJA, which was founded over 20 years ago by UUs of Jewish descent or interest who wished to create a voice for the often overlooked Jewish presence in our faith community and to highlight one of our source traditions.
Judges for this year?s UUJA sermon award competition were The Rev. Marty Keller, past president of UUJA; The Rev. Aaron McEmrys, winner of the 2012 Davidoff award; and former UUJA board treasurer Myrtle McMahon.